Producing an archive?

-
Building an interdisciplinary community on the 3D study of coral skeletons



Jeudi du vivant
18 mars 2021 - LAAS-CNRS [on line]
Where I am?

I am situated into a technological research laboratory, (that you all know well) inside a team of science engineers, the ELiA team (Engineering for Life Sciences)
My designer background and my integration in the team made me at first an observer. What do I see?
What I observe: The technological lab as a place to produce technical objects.

What I'm wondering: What's the place of design is thoses forms of production? in this production of forms? Is it "form of science" itself?

Then: How to conduct this deviation, these bifurcations?
« Sans prétendre que ces designers se positionnent comme ethnographes, nous constaterons que leurs productions visent des objectifs comparables : décrire les systèmes techniques, saisir les chaînes opératoires, appréhender les gestes et le langage propres aux usages des objets techniques.»

Nicolas Nova et Lysianne Léchot Hirt, « Ethnographier avec le design », Techniques & Culture [En ligne], Suppléments au n°71

—


Interdisciplinary approach

We then define what we did not want to contribute to, what we did not want to be part of: (as feminists should say: "not in our name!")

1/ A techno-solutionist vision of scientific practices and aims
2/ Participate in the production of bio-artificial reefs
3/ "Educate" the "general public"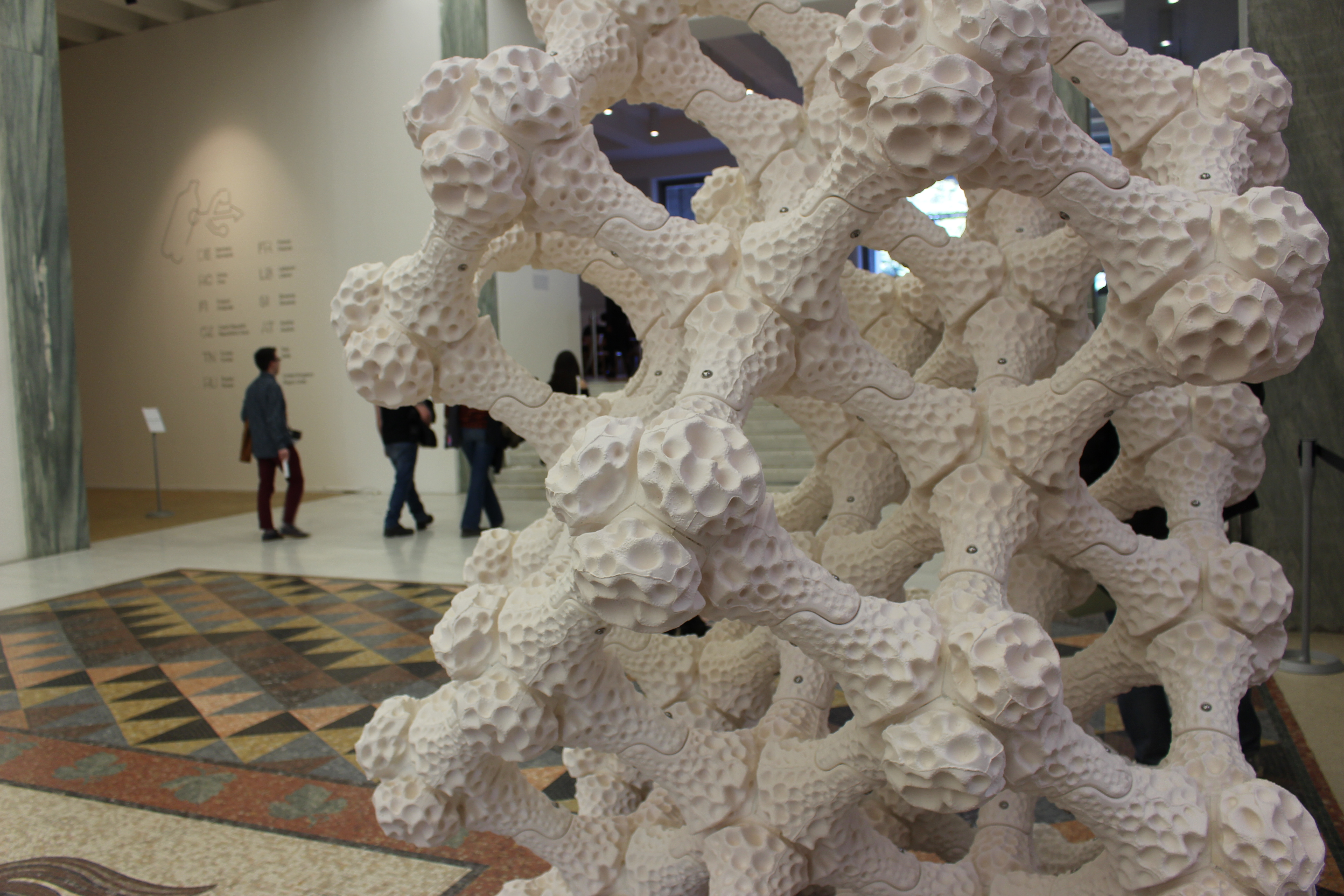 " Design is a powerful analysis and repair tool. "

Paola Antonelli et Ala Tannir, Broken Nature, XII Triennale di Milano, 2019, p. 18

Photo : Elise Rigot
The injunction to repair itself is not obvious. If it is important for designers (and engineers) to question their practices, methods and postures facing erosion of biodiversity ; repairing would mean rectifying, re-establishing or restoring.

Applied to the living, repair no longer makes sense, it would rather become the search for a new dimension of life and not a return to a previous state of balance.
From the observation of the the ELiA team know-how, The Atlas-Archive of corals uses X-ray micro-tomography to archive a part of our biological heritage whose diversity decreases sharply as a result of global warming and climate changes.

To construct a common tool shared between scientists and citizens, a hybrid between an archive and a tool for "science in the making" (Latour).

We have a funding from the Dassault Foundation to take care of this project.

We also beneficiate from the Pi² technical support to produce the plateform and the database.
—


Technical developments of 3D views

—


Scientific construction of the Atlas/Archive (name complicated to found!)

Different entry points for the Archive/Atlas to be found in the digital platform :

-1-historical expeditions

-2-critically endangered species

-3-contemporary expeditions

-4-Fossils

-5-Gorgonians (alcool)

-6-Deep / cold water corals

-5-Red corals


Deltocyathus crassiseptum Cairns, 1999
Expédition Musorstom 7, Collection du Muséum d'Histoire Naturelle de Paris, Paratype

-Prof 325-400m

-12°30' S 176°41' W

-Ordre : Scleractinia

-Famille : Caryophylliidae

-Genre : Deltocyathus


The species name crassiseptum (Latin crassus, thick -H septum, partition) refers to the thick Si-2. The name is treated as a noun in apposition.


The 3D Coral Library is organized around 3 main objectives:

1.An open access digital platform for the scientific community and citizens

2.3D visualization of coral structures

3.Scientific mediation of the library through exhibitions


Following the online meeting with project stakeholders, 3 working groups are emerging

--> Culture
--> Growth
--> Perception

Each of these working groups contributes to the more global project of the Atlas/Archive and becomes a place of exchange, listening and mutual share of methods, know-how, tools and resources.

Compte-rendu de la réunion (in french and not to publish around) : here
Culture aims to study how the coral, and particularly the larvae, behave according to the microenvironment in which they are cultured.


Growth aims to study growth models mathematically or experimentally using 3D scanning tools.

Perception
aims to study how we can make visible and perceptible, the coral and its current issues.
For Morizot, the environmental crisis is a crisis of the sensitive. Interesting fact: the scientific knowledge is built on an evinction of the sensitive.

We are going through a cultural crisis.

It is necessary, in my opinion, to place scientific practices in a cultural approach. Putting science into culture (Levy Leblond) ; or putting scientific practices into cultural issues.
—


Time / scale perceptions

A paradox: we need time, we need slow down (Stengers) and yet: the disappearance is imminent, immediate, already there..
-600 million years / +40 years
Primitive corals appeared during the Paleozoic era, followed by the first forms of scleractinians from -240 million years ago. The history of corals is marked by successive extinctions over time. If these organisms with great resilience have managed to survive, it is on long time transformations and not in the particular time we are going through today. Anthropocene is the name of the geological time marked by the appearance in the earth's crust of specifically human markers. We are living in a sort of acceleration of geological time, very far from the time of biology.

How to show the different perceptions of time?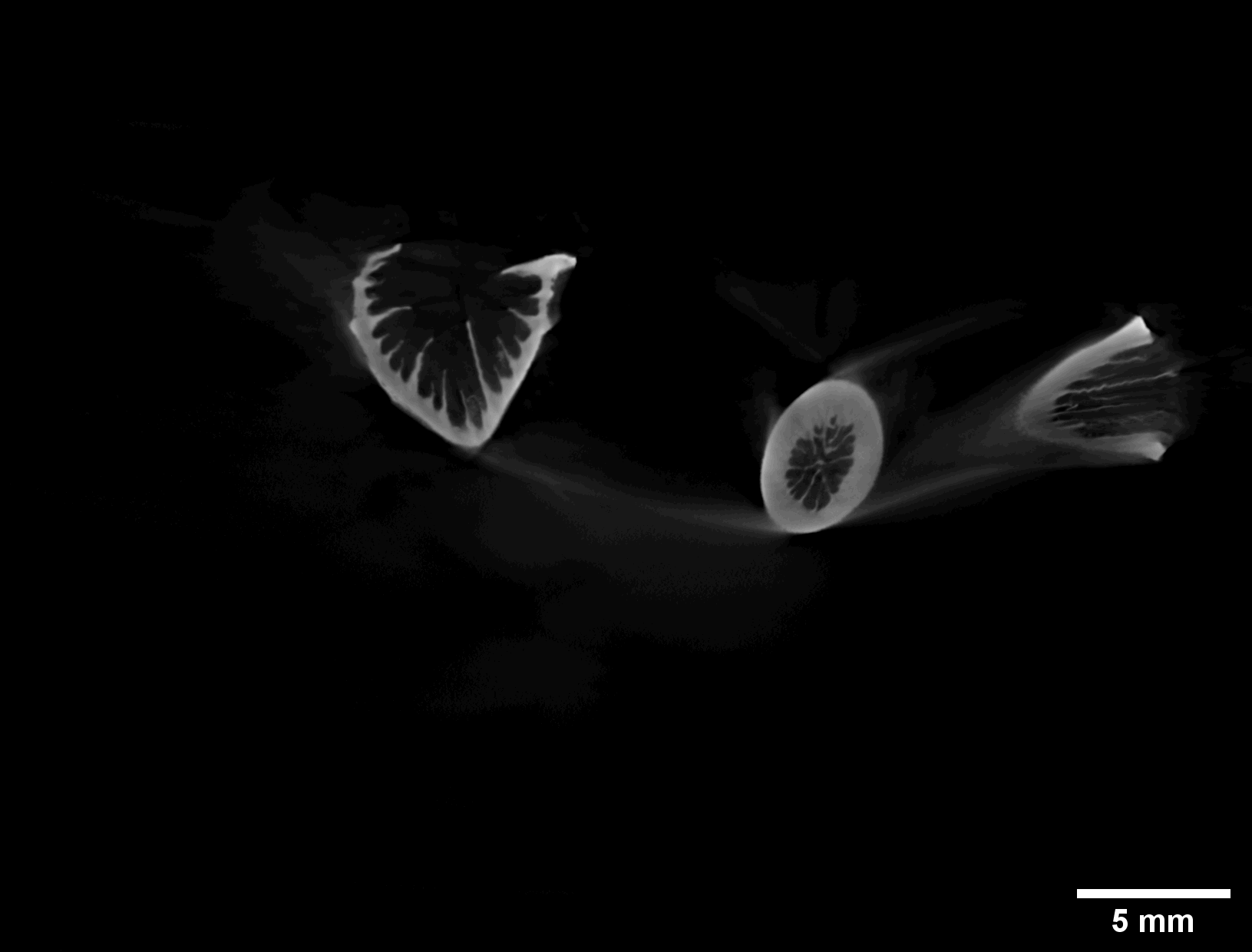 Institut de Mécanique des Fluides de Toulouse, IMFT, tout droit réservé
It is a field of ruins, of fragments: a collection of structures of the complex architectures that corals make with the help of biomineralization. The time of writing the material, by 3D printing process layer by layer, replay the increments of growth of corals. This slow mineralization of the skeletons allows to build the base of the reefs which shelter the marine biodiversity. Emptied of all life, only the fragments remain.
The enlargement of fragments of coral skeletons by additive manufacturing process in clay makes perceptible what is usually invisible to the human eye: microstructural information on the scale of a few microns, enlarged dozens of times to approach a sensitive experience. Reproduced as witnesses of their own extinction, sort of archive-sculptures, their petrifications proceed from a form of anticipated paleontology.
—


Perception of inter-species relationships: what ties us together?

Merci beaucoup de votre écoute !
For those interested you can test the experience of perception in virtual reality (Occulus Quest headset) with Denis Tribouillois at the open space of ELiA team (bat. C first floor)

more infos : erigot [at] laas [.] fr
—
Présentation conçue avec Reveal.js, MIT License
Crédits Images/PDF : Tout droit réservé (aucune réutilisation possible sans accord de l'auteur)
Propriété intellectuelle de cette présentation : Tout droit réservé à Elise Rigot
Crédits typo : IBM Plex, Mike Abbink / Bold Monday, 2018
Crédits graphisme CSS : Elise Rigot d'après un CSS d'Anthony Masure